January 25 - 27, 2019
4:00 pm
Edmonton Shaw Conference Centre
This event has already occurred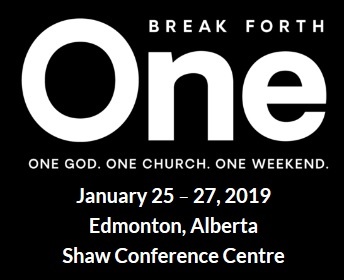 Break Forth One exists to unify, serve, equip and empower
the church in Canada to live out the mission of Jesus.
January 25 - 27, 2019
Edmonton, Alberta - Shaw Conference Centre
"Our cultural landscape is changing. The rate of change is accelerating faster than at any time in history. If the church is to speak into this changing reality with the love and grace of Jesus we will need to do so prayerfully, strategically, thoughtfully, lovingly and humbly. As One.
Break Forth One is an invitation to come together in unity. It's an invitation to leaders and the broader church to come together for one weekend to dialogue, listen, learn and pray together—to be equipped and empowered—to reach our neighbourhoods, cities, and country for Jesus."
(from https://www.breakforthcanada.com/about)
For more information on conference hotels & worshops/courses, please visit www.breakforthcanada.com. They also have a Facebook page "Break Forth Canada".